EX60 is a mini excavator of Hitachi, and it has been produced since 1987. Excellent engineering qualities and long life make the EX60 able to withstand heavy loads on a wide variety of worksites and applications. Welcome to find what you need from our Hitachi excavator parts lookup table.
Hitachi EX60 excavator can be used in various construction, earthworks, and other light excavation work. Flexible operation performance, including 360-degree full rotation function, can be flexibly operated in a narrow working space.
Also, the EX60 is equipped with a powerful and reliable diesel engine for efficient power delivery and reliable performance. Now explore the detailed parameter information below.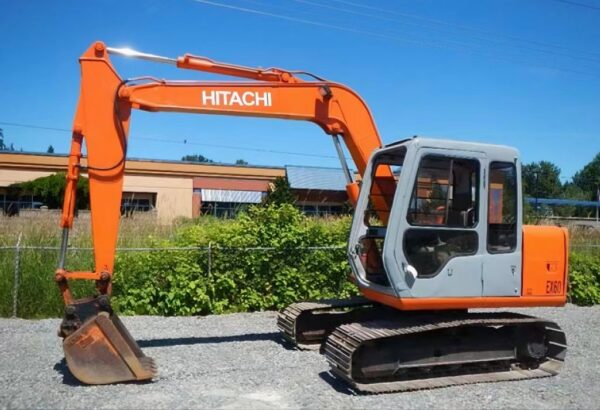 Source: yandex.com
EX60 Hitachi Excavator
Specifications Lookup
Boom/Stick Excavator Option
| Max Cutting Height | 23.5 ft (7 m)/ 24.8 ft (7 m) |
| --- | --- |
| Max Digging Depth | 13.7 ft (4 m)/ 15.3 ft (5 m) |
| Max Loading Height | 16.7 ft (5 m)/18 ft (5 m) |
| Max Reach Along Ground | 20.3 ft (6 m)/ 21.9 ft (6 m) |
| Max Vertical Wall Digging Depth | 11.6 ft (3 m)/ 13.4 ft (4 m) |
| Shipping Height of Unit | 8.5 ft (2 m)/ 9.5 ft (3 m) |
| Shipping Length of Unit | 20 ft (6 m)/ 20.1 ft (6 m) |
Bucket
| Maximum Bucket Capacity | 0.5 cu yds (0 m) |
| --- | --- |
| Minimum Bucket Capacity | 0.2 cu yds (0 m) |
| Reference Bucket Capacity | 0.4 cu yds (0 m) |
Dimensions
| Ground Clearance | 1.2 ft (0 m) |
| --- | --- |
| Height – Top of Cab | 8.5 ft (2 m) |
| Removal Counterweight Clearance | 2.5 ft (1 m) |
| Tail Swing Radius | 5.8 ft (2 m) |
| Width to Outside of Tracks | 7.3 ft (2 m) |
Engine
| Aspiration | Natural |
| --- | --- |
| Displacement | 180.3 cu in (0 m) |
| Engine Make | 2311 |
| Engine Model | A-BD30 |
| Max Torque | 133.5 lbs/ft |
| Net Power | 54 hp (40 kw) |
| Power Measured @ | 2200 rpm |
| Torque Measured @ | 1500 rpm |
Operating Specifications
| Alternator Supplied Amperage | 25 A |
| --- | --- |
| Cooling System Fluid Capacity | 2.7 gal (8 l) |
| Engine Oil Capacity | 3.4 gal (11 l) |
| Fuel Capacity | 9.5 gal (34 l) |
| Hydraulic Pump Flow Capacity | 41.9 gal/min (155 l/min) |
| Hydraulic System Fluid Capacity | 23.8 gal (87 l) |
| Hydraulic System Relief Valve Pressure | 4550 psi |
| Operating Voltage | 12 V |
| Operating Weight | 13889.2 lbs (6,300 kg) |
| Swing Drive Fluid Capacity | 0.5 gal (0 l) |
Swing Mechanism
Undercarriage
| Ground Pressure | 4.3 psi |
| --- | --- |
| Max Travel Speed | 3 mph (5 kph) |
| Number of Carrier Rollers per Side | 1 |
| Number of Shoes per Side | 37 |
| Number of Track Rollers per Side | 5 |
| Shoe Size | 17.8 in (43 cm) |
| Track Gauge | 5.8 ft (2 m) |