FridayParts is incredibly grateful for the support and trust of our customers during April 2023. As a token of our gratitude, we have decided to donate $500 every month going forward. We wholeheartedly thank our customers for their involvement in making cool things happen together over the past year and beyond. It fills us with pride to make a charitable contribution each month, and we want to extend our gratitude to all of our customers for their generosity and dedication to making a positive impact. By working together, we can make a meaningful difference in the lives of those in need.
This month, we want to share an article from UNICEF: Cholera is endangering children globally.
Cholera doesn't know borders. Despite being preventable and easily treatable, children continue to suffer from the potentially fatal disease. After years of steady decline, cholera has made a devastating comeback. More than 1.1 billion people are at risk, with children under 5 especially vulnerable. The intestinal infection often spreads because of a lack of clean water and sanitation facilities. Children living in volatile and unstable communities are particularly at risk. Thankfully, vaccines and treatments are available. UNICEF is working to make sure that these provisions reach the children that need them the most. The goal is to make sure that by 2030 cholera is no longer a threat to public health. Here's what you need to know about cholera and the efforts to eradicate the disease.
What is cholera?
Cholera is an intestinal infection. It's caused by ingestion of food or water that's contaminated with the bacterium Vibrio cholerae. Researchers conservatively estimate that every year, there are as many as 4 million cholera cases globally and as many as 143,000 deaths. Young children, especially those under the age of 5, bear the brunt of the disease. Furthermore, malnourished children are more vulnerable to experiencing severe symptoms. Cholera is a preventable and easily treatable disease.
What makes a country cholera-endemic?
A cholera-endemic area is where cases have been detected during the past 3 years, and there's evidence that it was caused by local transmission, rather than being imported from elsewhere. Meanwhile, a cholera outbreak (epidemic) can occur in countries where cholera does not regularly occur or in endemic countries.
How does cholera spread?
Cholera disproportionately affects the world's poorest and most vulnerable communities. A lack of access to clean water and sanitation facilities is closely linked to an increased likelihood of cholera transmission. That means that children who are living in urban slums and camps for internally displaced people or refugees are particularly vulnerable. That's because the minimum requirements of clean water and sanitation are sometimes not met. Poor water management, increased poverty and conflicts make safe water more and more scarce. Between 2010 and 2021, almost all cholera cases – 97 per cent – were seen in countries with the lowest levels of water and sanitation services.
Climate change also contributes to the spread of cholera. Significant rainfall and flooding, which is becoming more frequent, results in an intensified water cycle. That in turn affects access to clean water in communities already vulnerable to these events. Consequently, families and their children often rely on unsafe water, which exposes them to greater risk of contracting the water-borne disease.
If a child is infected with cholera, what are the symptoms?
Most children infected with cholera will have no or mild symptoms, and through the use of oral rehydration solution, they can be successfully treated. But if left untreated, the disease can kill within hours. Severe cases of cholera require rapid treatment with intravenous fluids and antibiotics.
After ingesting contaminated food or water, it can take between 12 hours to 5 days before a child begins to show symptoms. The bacteria remain in the faeces for up to 10 days after infection and is shared back into the ecosystem, which could lead to other people potentially being infected. Cholera can cause acute watery diarrhoea with severe dehydration, which can prove to be fatal. When experiencing diarrhoea, infants and children are at greater risk of dehydration compared to adults, and more so if they are malnourished.
What can be done to prevent the spread of cholera?
A multifaceted approach is key to controlling cholera and reducing deaths. First and foremost, ensuring that every child has access to safe drinking water and adequate sanitation is essential. It's also important that children in communities at risk have access to the WHO pre-qualified oral cholera vaccines.
Furthermore, community engagement plays an important role. Effective and engaging programmes can help to promote protective hygiene measures such as handwashing with soap and the safe disposal of faeces.
Additionally, given that cholera is an easily treatable disease, quick access to treatments during an outbreak, including oral rehydration solution, zinc and antibiotics is crucial. With early and proper treatment, the fatality rate should remain below one per cent.
Effective surveillance systems are also necessary to monitor and control the spread of cholera. The surveillance data gathered should be translated into accessible information that can be used effectively at a local, national and global level.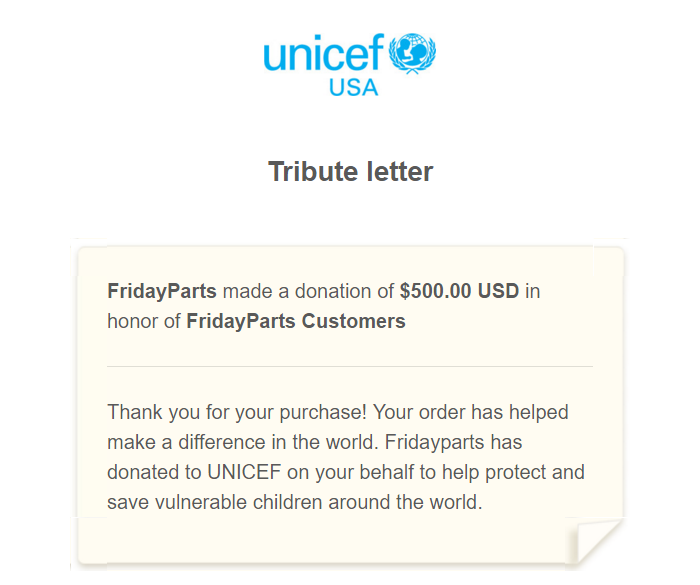 Learn more FridayParts global care program at: https://www.fridayparts.com/fridayparts-global-care-program
Learn more about UNICEF at: http://www.unicef.com