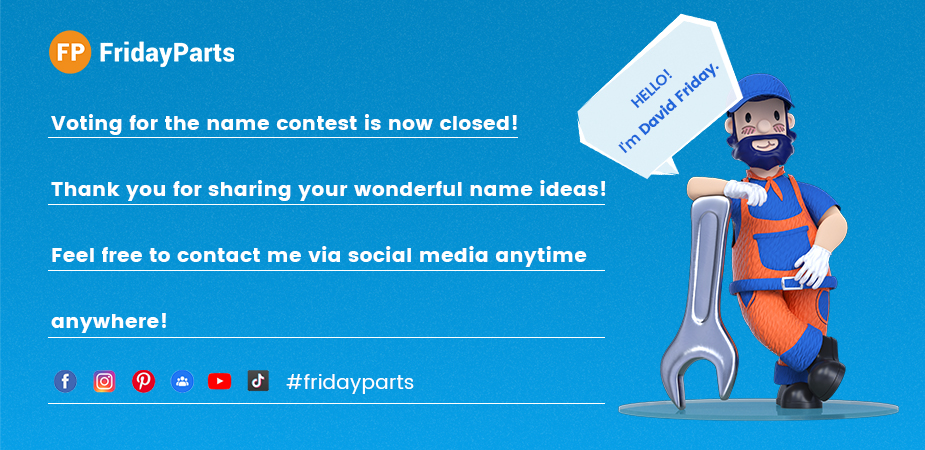 Dear FridayParts's friends,
From June 26 to Sep 10, the name-collecting program has lasted for about 45 days. The FridayParts team wants to say THANK YOU to everyone who shared their name ideas or visited the program page.
We fully understand that this program was not an easy one for our audience and that it required a lot of imagination. While we didn't receive many name ideas, every one of them was impressive.
After about a month of collecting names, we chose five names to vote on. Now, based on the voting results, our "new employee" will be named DAVID FRIDAY.

DAVID will connect with our audience anytime, anywhere via Facebook, Instagram, Twitter, YouTube, Pinterest, TikTok and other social media.
Once again, we would like to thank everyone who has followed this program, especially the participants.
We have sent $50 coupons for all categories via email with no threshold. Please check your inbox and get the lowest price at FridayParts.com.
For voting participants, don't forget to use your $10 no-threshold discount before September 20.
FridayParts Social Media
Facebook: https://www.facebook.com/FridayParts
Instagram: https://www.instagram.com/fridayparts/
Twitter: https://twitter.com/fridayparts
TikTok: https://www.tiktok.com/@fridaypartsexcavator
Pinterest: https://www.pinterest.com/fridaypartslimited/
YouTube: https://www.youtube.com/c/FridayPartsOfficial
Any suggestions, please feel free to contact us via email sns@fridayparts.com