In 2021, Kubota shows the 13.1tons of conventional tail excavator and 6 tons of non-tail excavator series.
Patrick Baker, the product manager from Kubota corporation said that:"According to the customers expectation, our new excavator model has more technologies, more quiet driver space and more comfortable functions. It can benefit for operators into reality."
Following are the specific details:
Kubota KX057-5
Kubota U55-5
Kubota's new KX057-5 conventional tail digger is powered by a 47.6 horsepower engine. Kubota said that KX057-5 replaced KX057-4, providing improved technology and sufficient cabin space in both the cockpit and the canopy model. This is the first time Kubota's excavators have a keyless start option. The engine can be started with a four-digit code, and up to 10 user passwords can be set. The excavator is powered by a 47.6 horsepower engine, has a digging depth of 12 feet 9 inches, and a bucket digging force of 10,172 pounds. The 47.6 horsepower U55-5 tailless excavator has a digging depth of 11 feet 11 inches and a maximum dump height of 13 feet 2 inches.
To make the cab more comfortable, Kubota added dual-adjustable seats, increased head and foot room, and reduced noise levels. Moreover, Kubota installed a thicker floor and replaced the elevated frame with a felt ceiling. Thinner cab pillars and metal window sashes were also used. Similarly to KX057-5, U55-5 has an LCD screen and keyless entry. A rear view camera is optional.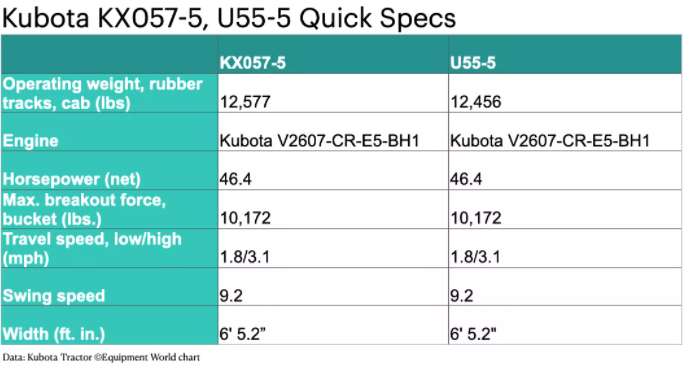 Now, Kubota provides hydraulic quick couplings for the entire 3 to 4 ton excavator (including KX033, U35 and KX040). Kubota said the new coupling allows the operator to change the bucket in approximately 10-15 seconds while sitting in the cab. The customized control kit for excavators includes a dedicated hose kit and a spring-applied hydraulic release and locking mechanism, and the coupling is compatible with older buckets.
Source:EquipmentWorld