Caterpillar (CAT) is expanding its next-generation compact excavator product line with the addition of 302.7 CR,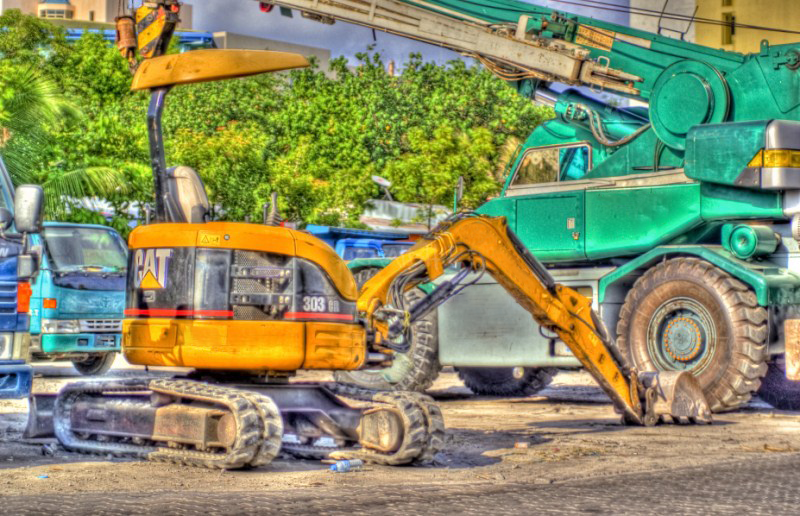 and 303.5 CR models. Compared with the previous equipment, 302.7 has an expandable crawler, 303 improves the lifting performance of the equipment, and 303.5 is equipped with a dozer blade. CAT product application expert Mark Perkes said: "Despite the differences, all these three machines have the powerful features of a new generation of products and are as popular as the models that have already been launched."
CAT said that compared with the previous model, the driving and trenching performance of all three compact equipment has been improved by 10%. This is due to the upgrade of the hydraulic system, which improves equipment performance, shortens cycling time.
"The width of the 302.7 track determines whether this excavator can enter a courtyard through a narrow door." Perks said. "It is the first excavator equipped with a retractable crawler among the 2.7-ton excavators. Meanwhile, the dozer blade can be folded, which also improves the flexibility of the equipment." The width of the crawler is between 53.3 and 70.1 inches to adapt to narrow space operations, and also to ensure the stability of the excavator.
In addition, users can choose 221 pounds or 551 pounds of counterweight. All three models offer extended boom options. The standard digging depth ranges from 96.5 to 110.6 inches, and the extended boom digging depth ranges from 104.3 to 122.4 inches. Moreover, the dozer blade is equipped with a floating function as standard, which is helpful for efficient backfilling and leveling tasks.
CAT said these models have reduced the cost of ownership by about 5% through features such as part versatility, damage-resistant appearance, ground maintenance inspections, and a tilted cab for more extensive repairs. The Cat 302.7 excavator, like all next-generation compact excavators, is equipped with a CAT joystick steering system, allowing the operator to switch from traditional lever/pedal steering control to joystick operation at the push of a button.
"Our roll-over cab and canopy configuration are very popular on 1 ton and 2 ton machines, and we will continue these two designs to these three new models," Perkes said. "The user can fully lift the cab in 3 minutes. This technology is also used in CAT skid steer loaders." Worley said that anyone who has operated the new generation of CAT excavators will find the control of these new excavators very familiar. If you have operated the 336, the control feeling of these new excavators is similar. "He said that this is a good feature for operators who use multiple tonnage excavators within a week. All three models have multiple options, including touch screen, rear view camera, password activation and Bluetooth functions. Like all new generation compact excavators, the new model has a CAT stick steering control device. With the push of a button, the operator can switch from traditional lever/foot pedal steering control to joystick operation. These machines have two ranges of travel and speeds of up to 2.8 miles per hour. "The joystick steering is a huge technological upgrade for the operators. They can experience an unprecedented driving experience." Worley said.
CAT Excavator 302.7, 303 and 303.5 Basic Specifications
| | 302.7 CR | 303 CR | 303.5 CR |
| --- | --- | --- | --- |
| Engine | CAT C1.1 Turbo | CAT c1.1 Turbo | CAT C1.7 |
| Net horsepower | 23.6 | 23.6 | 23.6 |
| Minimum weight with cab (pounds) | 7,133 | 6,924 | 7,982 |
| Maximum weight with cab (pounds) | 8,707 | 7,817 | 9,239 |
| Dig depth standard (inches) | 96.5 | 104.3 | 110.6 |
| Dig depth long (inches) | 104.3 | 116.1 | 122.4 |