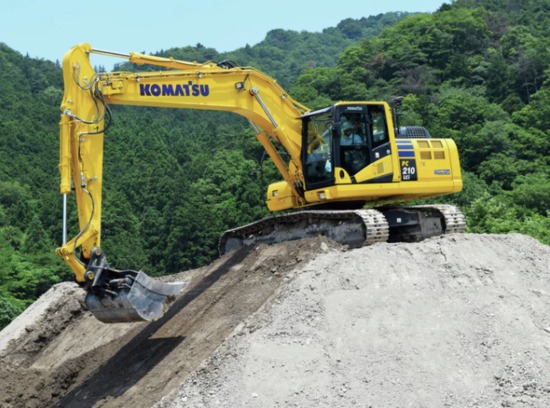 Recently, Komatsu released the latest excavator PC210LCi-11, which is Komatsu's first smallest tonnage excavator equipped with iMC2.0 technology (Komatsu intelligent machine control technology).
The iMC 2.0 was released by Komatsu at ConExpo 2020, which is part of the features for the new largest intelligent hydrostatic transmission (HST) D71PXi-24 bulldozer. The launch of the Komatsu PC210LCi-11 marked that the use of the second-generation iMC on the excavator. This excavator became the first Komatsu excavator equipped with iMC 2.0.
PC210LCi-11 weighs between 51,397 and 53,3882 pounds. It is designed for precise excavation and is more suitable for trench excavation, urban planning, and municipal engineering. It uses a 165-horsepower Komatsu engine with a bucket capacity of 0.66 to 1.57 yd3.
The 3D GNSS (Global Navigation Satellite Sensor Technology) is another important new feature of the iMC2.0. Using 3D GNSS, the operator only needs to control the arm of the excavator to complete the leveling operation, and the boom automatically adjusts the height of the bucket. The automatic tilt bucket control automatically aligns the bucket parallel to the slope, which means the operator does not need to align the excavator to the target surface. The system is controlled by a 12-inch touch screen display, and its sensors and stroke-sensing hydraulic cylinders provide a real-time position display.
Therefore, the factory-equipped iMC 2.0 system can prevent over-excavation and does not require high levels of operators. At the same time, this excavator

improves productivity.
That is why Komatsu called this excavator "a way to quickly narrow the skill gap between novices and experienced operators."
PC210LCi-11 Specifications
Engine

Engine Model
Komatsu SAA6D107E-3
Engine Displacement
408 in3 (6.69 L)
Net Horsepower
165 HP @2,000 rpm (122.80 kW @2,000 rpm)

Operating Performance

Max Bucket Capacity
1.57 yd3 (1.20 m3)
Max Digging Depth
21′9″ (6620 mm)
Max Dump Height
23′4″ (7110 mm)
Max Bucket Breakout Force (ISO)
33510 tons (15,200 kN)
Max Arm Digging Force (ISO)
24251 tons (11,000 kN)
Arm Length
9′7″ (2925 mm)

Undercarriage

Track Width
28″ – 31.50″
(700 – 800 mm)
Ground Pressure
5.90 – 6.70 psi
(41 – 46 kPa)
Travel Speed
1.90 – 3.40 mph
(3 – 5.50 kph)
Source: equipmentworld & smsequipment