FridayParts Limited has gone through significant growth in the past five years. During this period, our team spent a lot of time and money on enhancing and maintaining the FP online store, which, at present, contains over 35,000 aftermarket parts fit for more than 40 top construction brands.
However, more than building a professional parts online shopping mall, we want to focus more on spreading FridayParts' distinct brand identity through the TikTok & YouTube video sponsorship/collaboration. In this post, you will find company strength, website statistics, and sponsorship types. If you are interested in any types of video collaboration, please feel free to contact us via email at sns@fridayparts.com
Company Strength
35,000 + products available online

50 new arrivals at reasonable prices every day

24/7 online customer service; 5/8 phone call service

Worldwide express delivery

Construction machine parts specialist support

OEM quality
Website Monthly Statistics
Our monthly visitors reached 141,682 last month. 64.1% are our loyal customers and most of them are from the United States. The majority of our visitors are highly related to our business as the average bounce rate is 2.21% and the average time on page is over one minute. Therefore, we are confident to bring accurate traffic to your TikTok account or YouTube channel through the collaboration.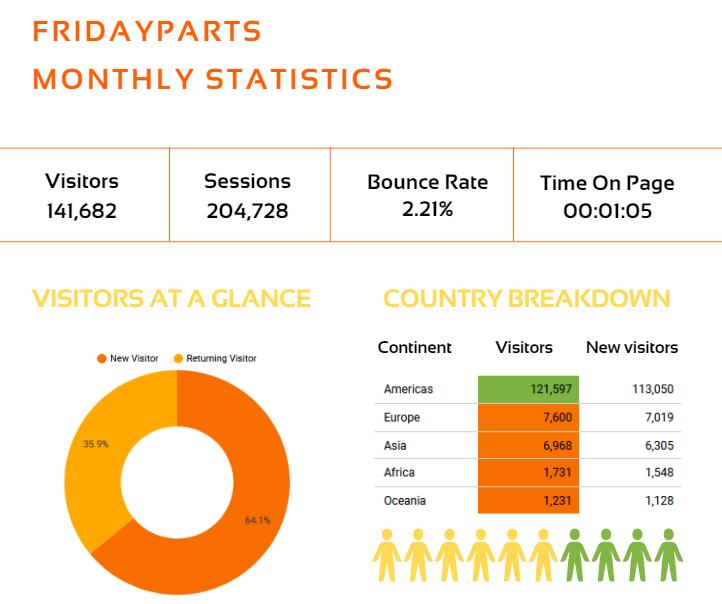 Social Media
Sponsorship Types
Affiliate Sponsorship — We'll give you a special link to place in your video description. Every time someone makes a payment after clicking on your link, you'll receive a commission.

Product Sponsorship — You'll receive products from us to do reviews, unboxing videos, or tutorials about them. Though you don't get any monetary compensation, you get to keep the products.

We pay you to advertise our business in your videos either by mentioning our company or by making reviews or tutorials of our products.
We welcome all video creators as long as your videos are related to our business to some extent. We will share your videos with our growing customer base and create something together that will be beneficial to the audience on both sides. If you have any questions about the sponsorship, please send an email to us at sns@fridayparts.com